Versatile Snowboard Box Items Every Snowboarder Should Have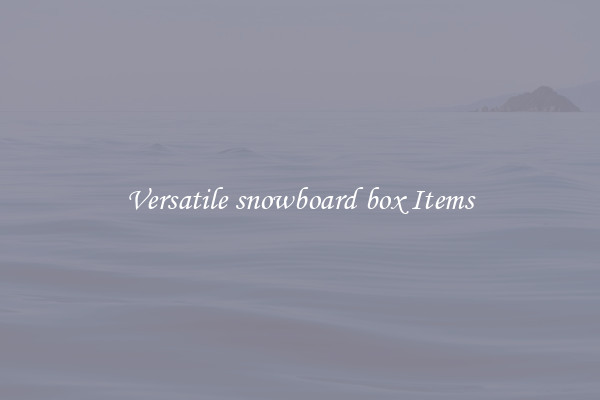 When hitting the slopes, it's important to come prepared with all the necessary gear to make the most of your snowboarding experience. While snowboards, bindings, and boots are essential, there are also a few versatile box items that every snowboarder should have in their arsenal.
One of the most important versatile items that every snowboarder should have in their snowboard box is extra goggles. Weather conditions on the mountain can change quickly, and having an extra pair of goggles can ensure that you always have optimal visibility. Additionally, goggles can easily get scratched, so having an extra pair handy will prevent any mishaps from ruining your day on the slopes.
Another versatile item that should not be overlooked is a small repair kit. Snowboarding can be tough on equipment and accidents can happen. A repair kit should include items such as a small multi-tool, extra binding screws, and some epoxy. These small items can be a lifesaver if your equipment gets damaged and can prevent the need for an early trip off the mountain.
A good pair of gloves is also a must-have in any snowboarder's box. Cold hands can quickly ruin a day on the slopes, so investing in a pair of high-quality, waterproof gloves is essential. Look for gloves that offer insulation and breathability to keep your hands warm and dry throughout the day. Additionally, gloves with touchscreen-compatible fingertips can be extremely useful for easily using your smartphone on the mountain.
In addition to gloves, having a neck gaiter or face mask is crucial for staying warm and protected from the elements. These versatile items can be worn in multiple ways, allowing you to adapt to changing weather conditions. They provide an extra layer of warmth for your neck and face while also preventing windburn and sun damage.
Lastly, having a portable charger in your snowboard box is becoming increasingly important in today's digital age. Many rely on smartphones for music, taking pictures, or using trail maps. However, the cold weather can quickly drain your battery. Having a portable charger will give you peace of mind and ensure that you can use your phone throughout the day without worrying about running out of power.
In conclusion, having versatile items in your snowboard box can greatly enhance your snowboarding experience. From extra goggles to a repair kit, these items can save you from unexpected troubles on the mountain. Remember to invest in high-quality gear that will withstand the harsh conditions and keep you warm, comfortable, and connected while snowboarding.