Breathable And Comfy High Visibility FR Fabric: Ensuring Safety Without Compromising Comfort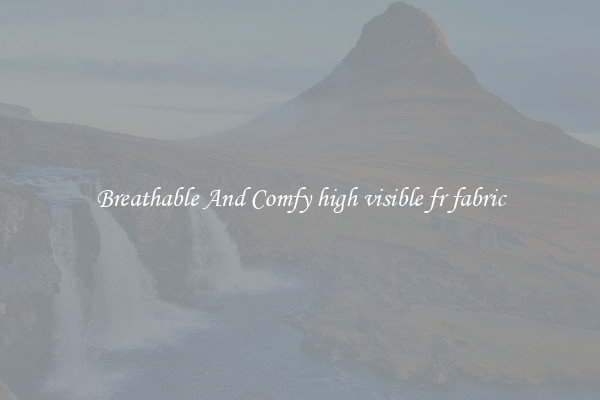 High visibility FR fabric is an essential component of protective clothing for workers in hazardous environments. It not only provides visibility in low light conditions but also protects against flames and heat. However, comfort is often compromised due to the heavy and non-breathable nature of such fabrics. The emergence of breathable and comfy high visibility FR fabric has revolutionized the industry, ensuring workers can remain safe without sacrificing comfort.
Traditional FR fabrics are known for their bulky and non-breathable characteristics. While they effectively protect against flames, their weight and lack of breathability can lead to discomfort, especially when worn for long hours. Workers often complain about excessive sweating, skin irritations, and restricted movement due to these fabrics. Such discomfort can negatively impact productivity and overall well-being.
Fortunately, advancements in textile technology have produced breathable high visibility FR fabrics that address these concerns. These fabrics offer a lightweight and breathable alternative, allowing workers to stay cool and comfortable while still meeting safety requirements. These innovative materials are made through a combination of specialized yarns, fabric weaves, and treatments that enhance breathability and moisture-wicking properties.
Breathable high visibility FR fabrics enable efficient air circulation, preventing the buildup of heat and sweat against the skin. By allowing air to flow through the fabric, these materials dissipate body heat, thereby reducing the risk of overheating and discomfort. Additionally, the moisture-wicking properties of these fabrics pull sweat away from the body, keeping the skin dry and minimizing the chances of skin irritations.
Comfort and breathability are further enhanced by the use of soft and flexible fibers. These materials ensure freedom of movement, preventing any restrictions or limitations on the worker's mobility. Whether the job demands bending, stretching, or reaching, these high visibility FR fabrics facilitate ease of movement, improving overall comfort and flexibility.
Despite their superior comfort, breathable high visibility FR fabrics do not compromise on safety. They still meet the necessary safety standards and provide protection against flames, heat, and visibility hazards. This means that workers can have the peace of mind of being adequately protected in their work environments without sacrificing comfort.
In conclusion, the emergence of breathable and comfy high visibility FR fabric has transformed the protective clothing industry. No longer do workers have to endure heavy and non-breathable fabrics that compromise their comfort and well-being. These innovative fabrics provide a lightweight and breathable alternative that ensures both safety and comfort. By prioritizing breathability, moisture-wicking, and flexibility, these textiles facilitate efficient air circulation, minimize sweating, and enhance movement. So, whether it's a construction site, roadside work, or any other hazardous environment, workers can now stay cool and comfortable while being protected, ultimately improving their productivity and job satisfaction.