French Logistics: Ensuring Quick International Shipping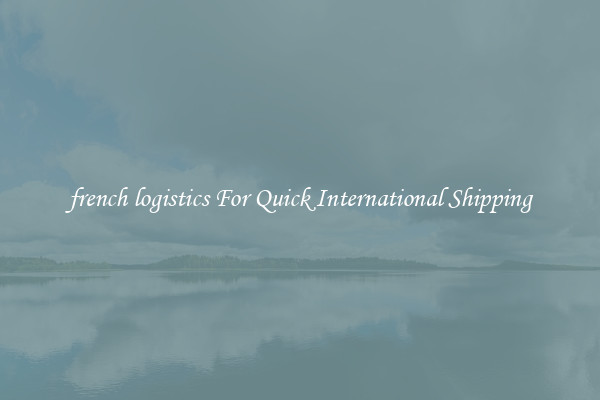 Logistics plays a pivotal role in international shipping, and when it comes to efficient and quick delivery, French logistics are renowned for their excellence. With a strong infrastructure, well-developed networks, and advanced technology, France is a global leader in providing seamless transportation and distribution services.
One of the key factors contributing to the success of French logistics is its advanced transportation infrastructure. France boasts a well-connected network of airports, seaports, and railways, ensuring smooth movement of goods across the country and internationally. The major ports in France, such as Marseille and Le Havre, serve as crucial gateways for international trade, facilitating fast and efficient handling of shipments. Additionally, the country's extensive rail network, including high-speed trains, enables rapid transportation of goods to various destinations across Europe.
Furthermore, French logistics companies employ state-of-the-art technology and advanced tracking systems to streamline the shipping process. This allows for real-time monitoring of shipments, reducing the risk of delays or lost packages. In an era where speed and reliability are paramount, such technological advancements enable customers to have complete visibility of their goods throughout the entire shipping journey.
Moreover, France has a well-established distribution network that extends beyond its borders. French logistics companies have forged alliances with global partners, enabling them to offer comprehensive door-to-door services. By leveraging their extensive network, French logistics providers can guarantee timely deliveries to various destinations worldwide. This network also ensures that all customs procedures and documentation are handled efficiently, further expediting the shipping process.
Additionally, French logistics companies prioritize sustainability and eco-friendly practices. They are actively adopting strategies to reduce carbon emissions and minimize environmental impact. Initiatives such as using alternative energy sources, optimizing route planning, and investing in energy-efficient vehicles are common practices in the French logistics industry. This commitment to sustainability not only benefits the environment but also contributes to the efficiency of the shipping process.
Furthermore, France has a skilled and well-trained workforce in the logistics sector. Employees are equipped with the necessary expertise and knowledge to efficiently handle international shipments, ensuring that goods are handled with utmost care and precision. This expertise, combined with the use of advanced technology, guarantees that shipments are processed quickly, minimizing transit time and enhancing customer satisfaction.
In conclusion, French logistics are well-regarded for their quick and efficient international shipping services. The country's robust transportation infrastructure, advanced technology, extensive distribution network, commitment to sustainability, and skilled workforce all contribute to ensuring seamless and timely deliveries. By leveraging France's logistics capabilities, businesses can trust in the reliability and speed of their international shipments. Whether it's through air, sea, or land, French logistics excel in delivering goods worldwide.