Quality construction grade OSB3 for Construction Projects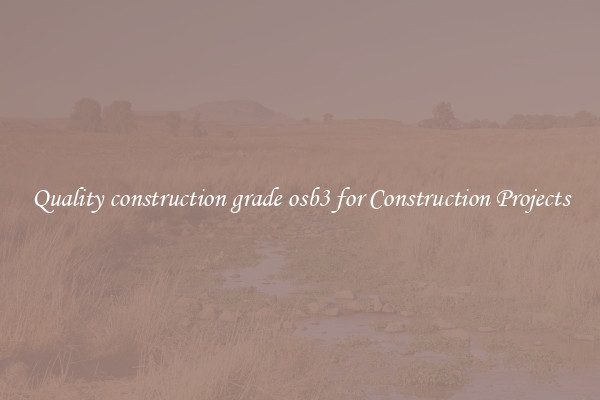 Quality construction grade OSB3, also known as oriented strand board, is a versatile and durable material that is commonly used in construction projects. OSB3 is a high strength engineered wood panel that is made by compressing layers of wood strands with adhesive resins. It is commonly used as a building material for walls, roofs, and flooring due to its excellent structural properties and cost-effectiveness.
One of the key advantages of quality construction grade OSB3 is its strength and durability. It is capable of withstanding heavy loads and provides excellent resistance to bending and warping. This makes it an ideal choice for construction projects that require a solid and sturdy foundation. Additionally, OSB3 has excellent load-bearing capabilities, making it suitable for both residential and commercial applications.
Another important feature of quality construction grade OSB3 is its moisture resistance. Thanks to the use of waterproof adhesives during the manufacturing process, OSB3 offers superior protection against moisture and humidity. This makes it suitable for projects that are exposed to the elements or have high humidity levels, such as roofs, subfloors, and exterior walls. OSB3 is also resistant to mold and decay, further enhancing its longevity and reliability.
In addition to its structural and moisture-resistant properties, quality construction grade OSB3 is also cost-effective and environmentally friendly. Compared to other building materials, such as plywood, OSB3 is more affordable, making it an attractive option for builders and contractors. Additionally, OSB3 is made from fast-growing trees, ensuring that it is a sustainable and renewable resource. Its manufacturing process also produces minimal waste, further reducing its environmental impact.
Furthermore, quality construction grade OSB3 is easy to work with, making installation efficient and hassle-free. It can be cut, drilled, and sanded similar to plywood, allowing for customizations according to project requirements. The tongue and groove profile of OSB3 panels ensures a tight and secure fit, minimizing the risk of movement or gaps. This not only enhances the structural integrity of the construction but also provides better insulation and energy efficiency.
In conclusion, quality construction grade OSB3 is an excellent choice for construction projects that require strength, durability, moisture resistance, and cost-effectiveness. Its versatility and reliability make it suitable for various applications across both residential and commercial projects. With its environmentally friendly manufacturing process and ease of installation, OSB3 is a top choice for builders and contractors looking for a high-quality and affordable construction material.